Board Members are called Hilite and 15 Hilite comprise the constellation of Hilite – our governing board. they are assisted by the Illuminator officers and board advisors.
The Illuminators gives members that demonstrate interest the opportunity to develop leadership skills through chairing events and committees with the goal to become a Hilite.
Hilites serve on the board for three years. Each year, five individuals are nominated and elected to join the Constellation. Five are "dimmed" (leaving active board duty). The board is accountable for the future direction of the Illuminators to achieve its mission and vision. The diverse perspectives of board members provide direction on how to increase the value of Illuminator membership and activities. The contribution of the Constellation of Hilites is one of the reasons the Illuminators are such a dynamic and well-respected organization.
The path to the board is through joining the Illuminators, volunteering to chair or vice-chair committees or events, working hard, and asking to get more involved. Once you are a chair or vice-chair for four events you are eligible to become a Hilite.
The Constellation of Hilites serves as leaders that oversee convention committees and also participate in 4 board meetings held each year. Once a Hilite is dimmed, they have the potential to become an Officer of the organization.
Each Hilite class has a special bond- from serving the membership in your first year together to leaving the board. Volunteer and find out just what a great experience it is!
MOVING UP IN THE ILLUMINATORS:




JOIN / GET INVOLVED / TAKE OWNERSHIP / BUILD TEAMWORK / PROVIDE LEADERSHIP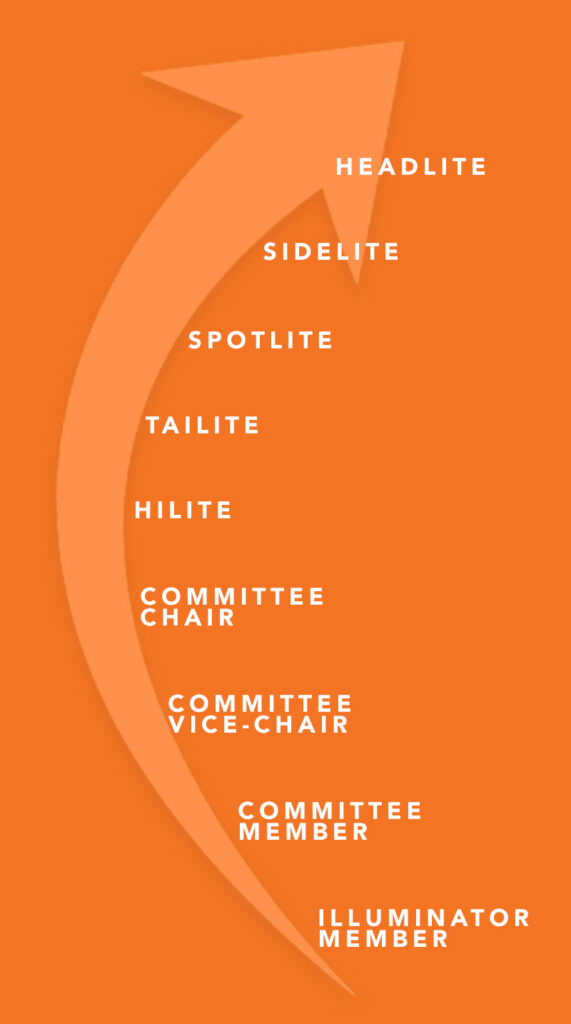 "The Illuminators are talented and dedicated individuals committed to our industry and to providing educational and career opportunities for others. We applaud their efforts."